Excellence in conveying your message

Understand and be understood properly, clearly and accurately

Excellence in conveying your message

Understand and be understood properly, clearly and accurately

Excellence in conveying your message

Understand and be understood properly, clearly and accurately

Excellence in conveying your message

Understand and be understood properly, clearly and accurately
Japanese interpreting services in Melbourne, Australia
Our Japanese English Interpreting team's breadth of experience in technical and highly specialised fields means that we can provide a NAATI accredited interpreter with skills as unique as your needs.
In ever fast moving business environments, a competent interpreter who will not only translate your words but convey your message fully, contribute significantly to your business outcome. This skill is a key for the successful outcome that you don't want to compromise. Our interpreters and translators participate in regular workshops to share the experience for the team's benefit and insight into many industries. Our interpreters undergo extensive preparations for each job so that you get a high standard of service with accuracy, fluency, ethics, and stylistic appropriateness in interpreting.
Extensive area
Government, Business, Finance
Marketing, Market Research
Legal and court interpreting
Automotive and Manufacturing
Mining, Energy, Environment
Agricultural, Food and Wine
IT, Software, Technology
Academic Research and Conference
Medical and Pharmaceutical
Education
Art and Sports, Event
On site interpreting style
Consecutive Interpreting for business negotiations, meetings, workshops, training. An interpreter listens to the speaker for a paragraph or two, and then delivers  the interpretation at appropriate pauses while the speaker is silent.  The interpreter is required to speak for the same length of time as the speaker, thus the duration of the speech takes twice as long.
Simultaneous Interpreting for Conferences, seminars and focus groups. Interpreters listen to the speakers through headsets and interpret into microphones with a 2-3 second delay. The audience (listeners) wear receivers through which they listen to the voice of the interpreter.
This method requires high levels of concentration and interpreters usually work in teams of 2-4, taking turns every 15-20 minutes. 
We have special interpreting equipment and booths for you to hire.
Telephone Interpreting, Audio and Video conference
Our Japanese interpreters have exceptional skills in interpreting telephone conference and video conference. Whether it is an ongoing project or a spot job, we understand your objectives and interpret to achieve a clear understanding of the discussion.
JTIM's NAATI-accredited interpreters are available to work for you anywhere in Melbourne, Victoria,  Australia or overseas.
Coordinator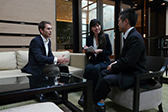 Presentations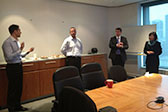 Conferences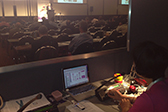 Business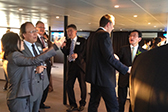 Medical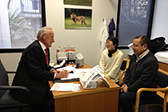 Engineering